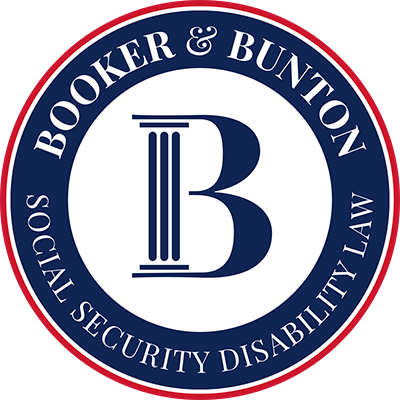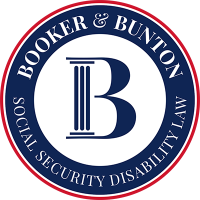 Applying For Social Security Disability?
Welcome To The Law Office Of
Booker & Bunton
Applying for Social Security disability can seem like a tiring and difficult process, but with our guidance, we can help simplify the process. Here at Booker & Bunton, we have extensive experience helping people apply for and win their Social Security disability cases. Contact us today if you have more questions or to set up a free consultation about your case. With combined experience of over 57 years, Booker & Bunton provides experienced representation in resolving your Social Security disability claim. Please note that no attorney fee is charged unless your claim is successful in court.
To be found disabled, an individual must be unable to engage in any substantial gainful activity (SGA) by reason of a medically determinable physical or mental impairment(s) which can be expected to result in death, or which has lasted or can be expected to last for a continuous period of at least 12 months. Social Security Disability is considered long term disability and does not provide benefits for short term disability. Additionally, Social Security does not award partial disability like the Veteran's Administration; under Social Security you are either 100% disabled or you are not.
Schedule an appointment today to speak with one of our attorneys who is highly skilled in providing precise guidance and quality results. We look forward to working with you. Our full-service team of dedicated associates welcomes your case.
Why Hire A Social Security Disability Attorney
The most important reason to hire an attorney to help with your disability case is that your chances of being approved are significantly increased according to statistics. From the initial application to the hearing level, disability attorneys understand how to present a case in the light most favorable to their clients. On the initial application, your attorney can offer advice on your "alleged onset date" of disability, argue that your condition meets one of the listed impairments and help you focus on the facts that will be most persuasive to the Social Security Administration. At the reconsideration and hearing levels, your attorney can collect and submit relevant medical evidence, obtain an opinion from your doctor, draft a detailed brief to the Administrative Law Judge (ALJ), and prepare you for the judge's questions at the hearing. Your attorney will also elicit helpful testimony from you at the evidentiary hearing and may cross-examine the Vocational Expert or Medical Expert to demonstrate that you're unable to work. At the next stages of appeal, the Appeals Council and federal court, your lawyer can craft sophisticated legal arguments to show that Social Security wrongly denied your case.